dw019 - Formication - Pieces for a Condemned Piano

One cold & bright August evening, in the empty car park of a sleepy village pub, we discovered the condemned piano.

During the time we spent with the remains on that August evening, we gathered 13 samples using various field recording techniques. The wooden keys, stripped bare, had expanded in the rain and so playing the instrument in the usual fashion was out of the question. Instead, we forced the music from the strings in other ways.

We took these extracts back into Harmsway and spent the following months reducing, expanding, compressing, torturing, stretching, warping & beating this music from them. Presented here is our lament for that condemned piano.

The piano is no longer there. It now only exists in memory, in these photographs and in the music we have made. We have provided it with a proper interment and in return, it has given us is its most beautiful and poignant performance to date.


Download Full Album:


dw019 - Formication - Pieces for a Condemned Piano (64.4 MB)


Download Songs:
* denotes suggested listening


Track 01 - On The Dying Pathway* (10.3 MB)
Track 02 - The Final Stage of Trauma (11.7 MB)
Track 03 - Exit* (39.1 MB)




Back To Releases






Dark Winter releases are free to download under a Creative Commons License.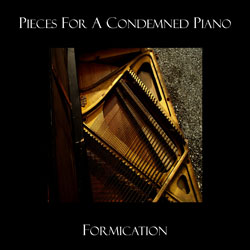 Related Links: