dw065 - Daina Dieva - Nakcia

Sounds Behind The Corner - Nicola Tenani (c) 2011
It has been almost two years from the time when delivered Daina Dieva questopera divided into two tracks at a netlabel of Minnesota but has a value so sublime in its symbolism as the sounds, which we feel obliged to reopen the door Allart Lithuania.

It is a difficult area where the female explores the intricate ways of the sound, but before long to Russian Halgrath, Daina Dieva now, let's make that the world of sound is dark as much as possible even dyed pink.

Nakcia in Lithuanian means night in his half hour of the development track is dedicated to the bow all night, from dusk until dark rumbling sounds in the second half deaf. In concept the artists, The album represents the duality inherent in all of us, less and non-being, the negative and the positive allopposto and reminds us of the themes of a film was born in 1982, The Dark Crystal, directed joint Frank Oz and Jim Henson.

Three Suns aligned in an alien sky, split personality in malignant and benign, and the aim was to bring the dark crystal to return to the initial situation but Daina in its track also sees the possibility of hermaphroditic life, sexuality.

An interesting issue that undoubtedly evokes the distant Hellenic cult of Tiresias, landrogino for excellence, so desired by the after accidentally saw two snakes divine join (the worship dellOuroboros).

Do not digress too much for the council to make our music even culturally, even beyond the sound track to join the educated, always implicit in our pages. The long track, even the title-track mini-album was born with witch-ambient sonority and its long reverberations far give the impression of a deserted room, upright and imposing, inviting only the voice of Daina, always on-tone never fall into chasms voice or touch the peaks of the blast, the impression of unantica jellyfish, now the Baltic, which hypnotizes with singing that most eyes.

Only a few dull thud accompanied at this stage voice, malevolent thud and waiting for the next level here, then suddenly a wall of sound, a compact screen to which the notes, the bytes become deadly and dangerous swarm.

Then he disappeared again and the abyss, now dark, vacuous, static heavy and slow when you light a music box tune. It is now wonder if was a real journey in one dimension, or in a soundscape difficult, or the trip was led by Daina masterfully by focusing on the most convoluted of the territories?

The mind and its labyrinths where memories are lost and come back alive and bloody ground as mobile sand engulfing emotions.

The symbolism suggests both.

In the second track, duration of the rectory, his voice reverberated again and witch nellessere and supported by the synth, including voice echoes and reinforces the perception hours of bright filtered light, but lively, ethereal at times, a starting point for future , desirable developments.

Lithuania: a land not too far away but unknown in our imagination, so even more fascinating.

Discover it gradually, going through the work of his daughter, the best way to honor a substrate that requires intelligent trust, one of our greatest propensities. The cost more than a click away from the site of Dark Winter, so that the world less lennesimo gift of music we sell.

The best thanks always to honor The artist with the download, lascolto and if you like, even just a written testimony, because that is priceless, gratitude become so valuable that really is priceless.

(translation by Google Translate)

IkEcht - Songsoverruins (c) 2010
Just before the turn of the year the net label Dark Winter released an album of the Lithuanian dark ambient act Daina Dieva; a new name in the scene. And one that, according their MySpace page, has been active since 2008, mostly performing live and making music for movies, installations and art exhibitions. With Nakčia they debut on Dark Winter and, frankly, manage to impress.

Nakčia, which is Lithuanian for night, consists of just two songs of 27 and 5 minutes. An odd combination, as they seemingly form a whole. The first track starts gently with the sounds of a flute, and is joined by rhythmic drones and a mystical, echoing female voice. That voice, I guess from the artist behind Daina Dieva, is rather enchanting and is used tactfully throughout. The album wanders between gentle song and darker pieces with rhythmical drones. Lopšinė, the second track, also mixes drones and song, and continues in the same vein as the first track. Together they form an eerie, mystical but also beautiful album.

Nakčia only lasts about half an hour but is one of the more impressive pieces of organic dark ambient I have heard in the past few months. An excellent debut of a promising new act!

Originally written for the Dutch weblog IkEcht (http://ikecht.web-log.nl/ikecht/), English translation by the author.

Industrial.org - Royce Icon (c) 2009
"Nakcia" is the debut solo release from Lithuanian dark ambient artist Daina Dieva. I had heard some of her material before via a collaboration she did with Svart1 called "Incubi-Succubi", which was really beautiful stuff. I was happy to hear that this new album is just as haunting and beautiful as her previous material.

"Nakcia" consists of two tracks- the title track, which is about 27 minutes long, and "Lopsine", which is a little over 4 minutes long. Both tracks are perfect examples of what I like about electro-acoustic dark ambient:

thunderous low end hums, chilling bow induced guitar drones, haunting ghost-like vocals, pounding minimal drums, and lots and lots of reverb. There is also some very nice flute work as well.

I'm not sure exactly how this was composed, but the feeling one gets while listening to it is that it was all recorded live, and I can just imagine sitting in a small room watching it being made, an awe-struck look of bliss on my face. "Nakcia" apparently translates to night in English, and I must say that I can not think of a more succinct word for this album. This a pure, beautiful dark ambient masterpiece.

This album is available for free, so you really have no excuse not to listen to it. If you dig dark ambient music, Download this now! You will not be disappointed. Daina Dieva rules!




Back To Reviews

































Dark Winter releases are free to download under a Creative Commons License.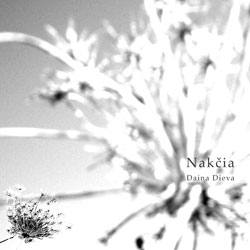 Related Links: