dw050 - Exuviae & Kenji Siratori - The Drug Embryo

IkEcht - Songsoverruins (c) 2008
The .net label Dark Winter has just released its 50th album. What started in 2003 as a small project of Nathan Larson has grown into a small but respectable label focussing on dark ambient and other unconventional electronic music. I came across this label somewhere midway their current catalogue and, for those who have been reading this weblog for a longer time, the rest is history. Some twenty-odd reviews have appeared in an English translation on the pages of Dark Winter. As a thank-you we got an exclusive preview of the 50th release.

This album is a collaboration between Exuviae and Japanese cyberpunk author Kenji Siratori. I have heard some solo-work from the latter, which was quite good. A collaboration between First Human Ferro and Kenji Siratori also scored high here, although that was more due to the music of First Human Ferro. Kenji Siratori is a cult writer with an idiosyncratic style; jargon from (medical) biology and computer and internet technology are mixed into something quite extraordinary. Some call it poetry, others call it gibberish. On which side of the fence I stand is something I'll leave to the reader. His illustrious status increased when he bombarded thousands of bands in 2006, suggesting the idea of a collaboration with him. A rather successful way of going about things, looking at the 100 to 150 albums which have popped up in his discography since then. It won't be long before he will have outdone Masami Akita (Merzbow) as prolific Japanese artist. What often turns out to be the case though is that a collaboration means that Kenji Siratori recites Japanese texts to the music of whatever artist he happens to collaborate with. And sometimes this is only limited to a few songs, as with First Human Ferro's album mentioned above.

Exuviae is an artist I didn't know yet and they have so far produced three albums, not counting the new release on Dark Winter's sister label Endless Ascent. Exuviae's music on this album straddles drone and dark ambient territory. The combination with Kenji Siratori's vocals is one that works for me on occasion, as on the first track "Strange God" or the restless "Spiral World", where sparse percussion is added to the mix. Often however I find it distracts from the dark and pleasant soundscapes of Exuviae. I'm sure that for Kenji Siratori his participation on this album will be a nice addition to his rèsumè, but for an hour of Japanese with _no_ variation whatsoever in its recitation is simply too much. For those who would like to sample Kenji's poetry, the added booklet contains several pieces. The last track is a nice bonus, Nathan's project Bunk Data remixes all songs on the album into one claustrophobically dense and dark mass. I have to congratulate Dark Winter again on finding yet another unknown but promising artist. I will definitely check out Exuviae's album on Endless Ascent in the near future.

Originally written for the Dutch weblog IkEcht, English translation by the author.



Back To Reviews































Dark Winter releases are free to download under a Creative Commons License.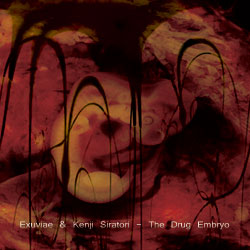 Related Links: