dw046 - Mystified - Altered Signals

Agniworld - Kirill Platonkin (c) 2011
"Altered Signals" is an album of Thomas Park, an American musician, mostly known under the name Mystified. The album, released on Dark Winter label, starts with the same-named track, built up by some kind of intrauterine sonic flashes, resembling a cash-register, furiously spitting out endless checks. It is more an experimental/soft noise piece, against a background of minor low-toned drone. Irregular and buzzing, it is passing the baton to "Bell Cloud", which comprises something like an aircraft-drone. Listening to it, you are sure to get a feeling of a processing of a takeoff. Eating more deeply into the structure of this track, you can detect some distant ghostly sounds of unknown nature, that brighten the whole track's system. If considering "Altered Signals" to be a prelude, "Bell Cloud" is a submergence into the depths of the author's music concept. Then comes "Vocal Tremors"; again some alteration of signals (here – voice signals) can be discovered. When I reached "Octavepus", I realized the twin nature of this initial part of the album. The first pair is "Altered Signals" and "Vocal Tremors", common feature of which is alteration, and the second is "Bell Cloud" and "Octavepus" – two taking off compositions, that have a ascendant guideline in their both skeletons. These four tracks represent the first part of the album. The second is a 30 minutes long "Science of change"; in it you can hear some unhurried and measured succession of fade-ins and fade-outs of tenderly ringing drones. There are no repetitions – the name of the track speaks for itself, there are only changes, but not fast – these ones evidently resemble changes in nature, which sometimes are omitted by the human eye. In the whole, the album of Mystified creates positive impressions, leaving a pleasant afterimage in the inner screen of a listener. So, become a receiver of Mystified's "Altered Signals".


Windwalzer.de (c) 2008
Mystified of does it again. And that now? (Early) summer heat, thunderstorm, still another summer football fairy tale? It is good to have in addition for quiet hours a musical Gegenpol. Light and ease we find in outside, grounding, depth and darkness supply new release Altered Signals on the US label Darkwinter. Four short and a long title show the strength of Mystifieds sound experiments, which were to be heard among other things on Webbed hand record and TZP Drone company and are. The first TRACK old person-talk signal builds about a calm bass note strange, monotonous random scribblings, which burst like Popcorn in the pan into the Gehörgänge. Bell Cloud is calm Drone, too dark, could not be played well in a cathedral. Vocal Tremors rushes and eiert with incomprehensible Sprachsamples, Octavepus gives in again into more common Drone courses. Finally that much satisfies Science OF CHANGE, which offers floating, cold and sweet sounds in a half hour with only small movement. Very minimum and nevertheless stretching, how the different sound layers shift against each other, rub, and finds again to each other. (Babelfish Translation)


fuktmp3.blogspot.com - JulioC4 (c) 2008
Thomas Park is an american from Saint Louis, Missouri, very connected to the obscure music in her most beautiful form: Dark ambient. Not just this: Thomas is very connected to other sub-genres too, like noise and drone, and frequently is found listening to new bands or artists, and motivating another people (like me, for example) to try to create music like this. I confess that i didn't have faith on the beggining, but I tried an now I'm learning how to create such sounds.

Mystified is his main project. First, I feel forced to talk about an attitude of Thomas and the label Dark Winter, wich are releasing albums like major labels (with covers and everything else), but also let them all free to download, even in the label's site. This is a respectable and admirable attitude, that should be followed by other people. Altered Signals is the most recent album, released a few months ago. Incredible how we can percept different musics with similar structures. "Altered Signals" is full of strange and recurring sounds, something like a rain of iron without heaviness (?!?!), with a heavy and dark atmosphere behind. "Bell Cloud" stay on the same way, but not so tense, and mixing dark with relaxing atmospheres at the same time. If I believe in aliens, I could say that the voices on "Vocal Tremors" belong to them. "Octavepus" is distressing! Try to imagine someone running in slow motion. Get it? Transform this to audio! The slow atmosphere that becomes slowly fast gives a feeling of anguish, but nothing like face her! And now, the big moment! More than a half-hour in "Science of Change" can make you sleep or reflect, in an incredible slowly progression. If you have a good ear, surely will perfectly understand this!


Disquiet - Marc Weidenbaum (c) 2008
Five Broadcast-Based MP3s from Thomas (Mystified) Park
There's no didgeridoo on the five-track album Altered Signals by Mystified (aka Thomas Park), but there may as well be. Much of the music heard here has the slow, otherworldly onomatopoeia of that aboriginal device. The collection opens with the title cut: the crackle of data, the ping of noises echoing in a long, narrow chamber (MP3). Then comes "Bell Cloud," which is all industrial chatter (MP3). In "Vocal Tremors" you can hear the deeply submerged speaking amid the crumpled metal (MP3). "Octavepus" is a heavenly drone, a kind of android Tuvan singing (MP3). And "Science of Change" is like some unimaginably large prayer bowl, its resonance echoing at an extravagantly sedate pace into the distance (MP3). According to the set's release notes, much of the source material originated in some form of broadcast, suggesting there was already some aural decay at work before Park got his hands on the elements from which Altered Signals was built. More info at the website of the releasing netlabel, darkwinter.com, and at Mystified/Park's mystifiedmusic.com.




Back To Reviews



























Dark Winter releases are free to download under a Creative Commons License.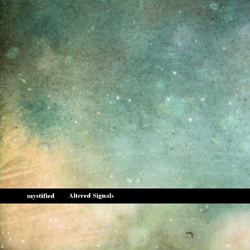 Related Links: