dw043 - Aegri Somnia - Nothingness

IkEcht - Songsoverruins (c) 2008
Aegri Somnia is a new name on the .net label Dark Winter. This Croatian artist already released an album on the Polish .net label Kaos Ex Machina Promotions in 2007. Aegri Somnia represents dark ambient in its purest form. The music rumbles and growls and a whole plethora of more, or less, "characteristic" dark ambient sounds is being employed. In a good way, mind you. The third track, "Nothingness", reminded me of "Inner Turmoil" of Sophia's album "Herbstwerk", mostly because of the chimes samples used. Well, that name, minus the bombastic tendencies, gives an idea of the sound. Another association I got with this music was the first level of the computer game Unreal. A crashed transporter, huge, dark, resounding and empty. Especially track three, and later tracks as well, feature a particular sound which makes me think of a terminal which occasionally beeps. The album's title, "Nothingness", is well chosen. And this album would be perfect background music to creepy shooters like Doom 3 or Unreal.

Aegri Somnia might not be breaking any boundaries in the genre, but it's a damn solid record. Recommended for all dark ambient enthusiasts, and another fine addition to Dark Winter's backcatalogue.

Originally written in Dutch, English translation by the author.

Windwalzer (c) 2008
Friends of dark ambient, watch out! The new release of Aegri Somnia on label Dark Winter offers dark, wide soundscapes of the best quality. Before spring breaks with its sunny feelings you can travel back once more into solitary silence from the darkest wintertime of the year with this music.

The opener is a short intro, which, like the following tracks, slowly builds into a wide sound space from several layers. Drones and sounds reminding me of a huge factory building, perpetual rumbling and breathing noises form the basis of it. The next piece, Nothingness is softer, combining drone sounds. Sumrak sounds more noisey and inconvenient, Garden of Pessimism adds some vocal samples to the whole.

Not only for this title it is advisable to some extent to be emotional strengthened when listening. Structures of Darkness could be a trip into outer space, the spaceship remains hanging somewhere far away, in an empty place, nevertheless full of energy.

After a quiet start, Dead Memories clears up the chakras, which are ready then for the second part of Garden of Pessimism, eventually ending in reconciliation. Last comes a short outro dismissing the benevolent listener into everyday life again. (Translation by Seetyca)




Back To Reviews



























Dark Winter releases are free to download under a Creative Commons License.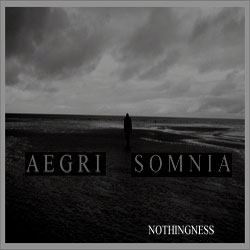 Related Links: