dw031 - Archive - Silent Night (Shepherds Quake)

O.S. - Evening of Light (c) 2007
Archive is a musical project by a man called Mike Hallenbeck, dedicated to exploring the depths of sounds and field recordings. This track is the latest netrelease from the Dark Winter netlabel, and it takes the listener deep into the innermost reaches of an apparently everyday sound source.

"Silent Night (Shepherds Quake)" is based in its entirety on a sample of a music box playing, you guessed it, "Silent Night, Holy Night". It starts off as you might expect it to, just calmly playing the melody, but after a while, the music box begins to break down, losing its tempo. At this point, gentle manipulations of the melody begin to trickle into the track, subtly and slowly giving way to a deep, warm waves of sound, still containing soft memories of their origins. The result is breathtakingly beautiful, and I was extremely and most pleasantly surprised upon hearing this.

The following statement comes from Mike's website: "To make this music is to open a small window on infinity, to activate the gloriously faulty perceptual faculties of listening and documentation." And he is right. These sounds reveal the beauty of everyday things, and the way they can give you insight into hidden, not-so-everyday realities. This is warmly recommended to all patient listeners.


Disquiet (c) 2007
DISSOLVING SILENT MP3: The holidays may be behind us, but holiday music isn't necessarily. Courtesy of the Dark Winter netlabel (darkwinter.com) comes a refreshing take on "Silent Night." This "Shepherds Quake" remix employs a music box version of the song, which both through its own inherent design and some significant digital manipulation dissolves over the course of its playing (MP3). There's something particularly dreamy about hearing "Silent Night" evaporate mid-hearing. More info on the credited artist, Archive (aka Mike Hallenbeck), at juniorbirdman.com/archive.





Back To Reviews
























Dark Winter releases are free to download under a Creative Commons License.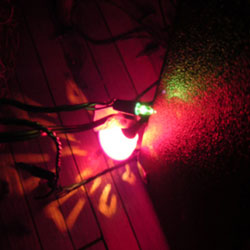 Related Links: