dw029 - Ka-baalim & Cupid - Western Angels

Sothzine (c) 2006
Western angels is a collaboration work between Ka-baalim and Cupid. In addition to the 3 tracks of the ep, there are 3 remixes of the track Western angels by Max Brody, Garland Villanova and Rapoon. There is also an accompanying video. The whole sounds a lot like the abstract ambient parts post rock Godspeed you black emperor uses in their songs. It is like field recordings of a magically empowered fantasy land, creating a lot of mystery knowing the titles of the songs refer to angel related things and places. The remixes are harsher and darker plus the appearance of more concrete instruments and musicality. Excellent release.

Brett Smith (c) 2006
Western Angels- A beautiful meditative piece, the beginning of a strange illuminative journey. It has an air of anticipation of experiences to come, yearning for the hidden to be revealed. A hymn to the unknown, played for you as you sweat in the temple, preparing for the initiation.

Gabriel's Gate- the passing to the underworld, marked by a quickening of the hidden energies around you. The air pulses with unseen forces as you move into places visited before only in dreams.

Subtle Reflection- A slow drift through a darkness shot through with shining gold. They whisper to you in your trance, teasing open your awareness. A coma from God.

Remixes:

Western Angels (Max Brody Remix)- A darker take on the original. The machine elves are hard at work, stoking the furnaces at midnight. Only you can hear them.

Western Angels (Garland Villanova Remix)- The coma of interplanetary travel, of deep empty spaces between worlds. The darkness is deafening, the silence blinding.

Western Angels (Rapoon Remix)- The infinite moment of ritual. Suspended between atoms of time, you exist forever.

Extras!

Booklet- I can't stress enough to not only download this music but the booklet that goes with it. I would think if we found a children's book left behind by aliens it might look something like this.

Video- Images of flowing water, overlaid with moving textures and slowly evolving silhouettes. A deceptive simplicity, it accentuates the meditative quality of the music, drawing you into a state of contemplation.




Back To Reviews
























Dark Winter releases are free to download under a Creative Commons License.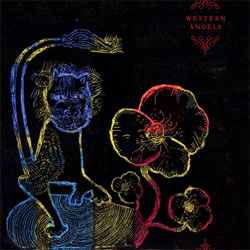 Related Links: