dw026 - Caul - Apophasis

Ikecht - Leon Vlieger (c) 2007
Speaking of .net labels. It's about time I introduced Dark Winter on this weblog. It's a .net label based in Canada, which attracted my attention some time ago. So far they have some 33 releases on their website, all high-quality MP3 files, released under the CC-license. Most of it falls in the category of dark ambient, experimental or soundscapes. Not everything is equally brilliant, but there are definitely some gems to be found here. This time a new record by Caul, titled "Apophasis". Caul has made it no secret in interviews that his music is a near-religious experience for him and if you look at his earlier works it is something you cannot miss (especially on "The Sound Of Faith" and "Light From Many Lamps" this is very tangible). With this release Caul approaches religion from a different side. On Dark Winter's website it is explained that Apophasis stands for negative theology; the determination of what God is, by focussing on what it is not.

Already a while ago I listened to this record and I seem to recall I wasn't terribly impressed. I had to listen to it again a few times to realise why. Once more this is a record that requires your full attention, but if you grant it that, it is very much worth it. With "Apophasis" Caul is weaving a nearly fortyfive minute sonic tapestry of dark ambient with light percussion. The sound is diverse and constantly shifting and so the album remains interesting. Give this record some time and you will notice it becomes a pleasant listening experience and is one that towers above many.

Ambient Review (c) 2006

"The spirit of the unattained,
I am to those who seek to name me,
A good desired but never gained:
All shall pursue, but none shall claim me."
—Ella Wheeler Wilcox

Titles of songs and genre labels for artists who create ambient music intrigue me. Bret Smith, who records as Caul, has created an intriguing album, Apophasis, which I will use to illustrate my point. The notes for the album at the Darkwinter site proclaim that: "Apophasis is 'negative theology'—a view of God determined by defining what God is not." This title evokes my interest, and adds a narrative quality to the story. The note also proclaims that the album was "[r]ecorded June-July 2006 at Epiphany Studios, Baldwin City KS." My initial knee-jerk reaction causes me to wonder if the album would sound differently to me if the title of the album had been "Baldwin City, Kansas."

A similar question arises when one considers the artist Caul, who has established himself as a dark ambient artist. Apophasis fits within the genre of dark ambient, but to dismiss it as "another dark ambient drone" would be inappropriate. The album provides a rich but not cluttered landscape of sound, from its minimalist opening section through lyrical but not overpowering melodic sections into a crescendo of quiet noise.

An artist chooses an album or song title for a reason, even if the reason is that the title merely serves as a placeholder. This title seems more than a placeholder. In this sonic context, apophasis, as defined for the listener, gives a springboard from which to contemplate the work. The single piece which comprises this album serves as a kind of metaphor for the spaces between—the places beyond conventional expectation—in the title's illustration, the places where God is not (and which are not God). It features some of the otherworldly sounds and evocative passages one might expect from a quasi-religious reference. The album fails to fall into stereotype, though, providing instead a solid experience which rewards the listener. Ambient devotees enjoy the spaces where the fabric of sound creates music within the silence. Caul's work on this album provides ample joy in this regard.

The album features a sense of quiet determination—a kind of exploration of sound. Had the album indeed been named "Garden City, Kansas," it would have had the same impact, but perhaps evoked for some listeners different imagery. It is tempting to divert into a discussion of the correlation between Kansas prairie and the things that are not God, but such sarcasm is beside the point.

The point is instead that Darkwinter and Caul deliver here a netlabel free download release of subtle, complex ambient music. Its approach is dark ambient with a minimal bent but whose scope and power are real and evocative. Caul does not answer for us the question of what God is not—or is. Caul challenges us as listeners to become involved in an indirect narrative, told in ambient sound. I enjoyed his storytelling very much, even as the story was without literal plot (other than a single, quickly explained word).

I recommend this album, from its subtle opening sounds to its near-choral interludes, from its satisfying deep drones to its unexpected shocks of unpredictable but never annoying electro-noise. I believe that the search for God lies in the spaces between the obvious truisms. Caul takes us to the musical equivalent of those spaces, to my delight. Nathan Larson's Darkwinter label has distinguished itself by releasing some wonderful dark ambient material. This album is no exception.


Rosa Selvaggia (c) 2006
Caul is another artist American who perhaps does not have need of presentations (Eibon rec., Malignant Records, Katyn Rec...)... realizes this only Apophasis trace (a figure rhetorical of a speech in which speaking invoca an object denying that it would have to be invocato) of beyond 40 minutes on one ' theory negativa': what it is and is not God... Drone, small movements and sounds are alternated in a dusk tetra and deep never deprived of hope but sad, melancholic, sweet in alternating itself of candid and gentle strict figures sollenni and to. Caul on net label is one rarity... to have. (translation by Nathan Larson)


Larry Johnson (c) 2006
Brett Smith working under the moniker of Caul uses his music as an alternate path to experiencing God. In webzine interviews he makes it no secret that the sounds that he composes as Caul serve as a medium for communicating his experience with God and as a conversation between himself and God ["Last Sigh"(1998) and "Opus" (2005)]. With "Apophasis" Caul gives the listener an almost 45-minute oeuvre into understanding God using what is known in mystic theology as "via negativa" or the "negative way" - expressing/sharing a knowledge of God by pointing the listener in the direction of what God is NOT, rather than what God is. The sounds found within this varied soundscape encompass cavernous drones, bursts of cacophony, and solemn synthesized orchestral melodies that converge into an overall reflective and brooding ambient testimonial of one individual's pathway to God.


Back To Reviews














Dark Winter releases are free to download under a Creative Commons License.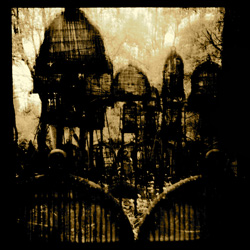 Related Links: