dw003 - Samsa - Mechanically Seperated
Electroambient Space - Phil Derby (c) 2004
If you don't get this title, pick up a can of turkey chili on your next trip to the grocery store. Mechanically Separated is the perfect name for a set of outtakes and unreleased tracks from Samsa's two previous CDs. The sound and mood are much the same, "Consulting The Oracle" bearing the familiar dark textures with water elements and a certain grittiness that appeals to the senses. "Long Time No More" is smoother, more ethereal and comparatively bright. "Ubligum Day (early version)" is a bit stripped down and not quite as dark as the version on Sounds Good On Paper, with emphasis on layers of vocal samples rather than deep drones. "Back Wash" is expansive, swirling and reverberating into infinity, very nice. Equally good if not better is "Chaotic Space," a completely atonal piece that will test your stereo's bass response. The percolating effects remind me somewhat of the Forbidden Planet soundtrack. "Target To Far" (should that be "Too?") is an excellent example of how a simple drone can be an effective tool in the right hands, beautifully done. Mechanically Separated is a worthy companion to Samsa's other two discs.



All Music Guide - Jim Brenholts (c) 2003
Nathan Larson, a.k.a. Samsa, performs on voice distortion, drones and altered percussion. "Mechanically Separated" is a set of "b-sides", outtakes and alternate versions from Nathan's first two CD's - "The Laurentian Divide" and "Sounds Good on Paper." These pieces are every bit as dark and cold as their counterparts. Nathan's penchant for warping the spit out of his sounds serves him well. These dark atmospheres are eerie and confusing and very cool!



AmbiEntrance - David Opdyke (c) 2003
Billed as "b-sides" for Samsa's The Laurentian Divide and Sounds Good On Paper, the intriguingly murky tracks of Mechanically Separated are often organically-flowing, though decidedly unnatural. .

Glowering textural glop boils and mechanical thrums hover in opening Consulting The Oracle, followed by the obtuse-yet-lovely gleams of Long Time No More. Layers of unintelligibly-blurred speech ripple like ocean waves coursing over the surface of Ubligum Day (early version). Exctingly ominous, Back Wash churns in darkly glimmering currents of shapeshifting lows and phantasmal highs.

Opening on windswept barrens, Irregular Formation (7:31) begins to radiate with strange ethereal powers; thinly wavering vapors arise and swirl over deeply droning terrains. Paper Bird (2:28) wanders through a disorienting maze of toylike twinkles and fragmented voices, finally revealing a quote of "You are special"... is that Mr. Rogers!?

Rumbling ooze spreads across the vast horizons of Dawn Key, while ghostly choirs may (or may not?) be heard far, far above. The performance of Ninety-Five (Live) concludes the disc with a more-aggressive weirdscape; sci-fi ripples, blast furnace rumbles, angelic sheens and disembodied/distorted male & female laughter converge.

Though being classified as an ep, Mechanically Separated's 10 moody slabs fill 44 minutes with somber, beat-free ambiance; inscrutable, though it's fun to try (to scrut?!). Get a peek into the creative process with these "alternate takes" and unreleased pieces... though frankly, when the material is this vague, it's hard to tie the previous versions together; as it is, I just enjoy more of Samsa's appeallingly grey aural surreality. B+
Back To Reviews

Dark Winter releases are free to download under a
Creative Commons License
.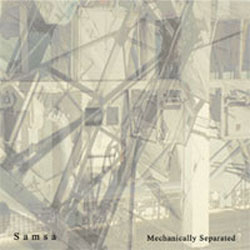 Related Links: