dw001 - Samsa - The Laurentian Divide
Electroambient Space - Phil Derby (c) 2004
Dark meandering with a purpose, The Laurentian Divide is several bits and pieces of sound that range from the dark rumblings of "Leaving Trees" and "Edge of Forever" to the bright ethereal "Perfectly Flawed" and everything in between. "Glow, Sparkle, Dust" is full of textures, with water sounds morphed into something resembling the crumpling and folding of paper. Melodies and rhythms in the conventional sense are pretty much off limits, though "From the Mountain" does have a semi-steady cadence of sorts. More often, the result is similar to "Ghostly Devices" with no discernible beats or discrete notes. Rather, this is about complex floating music with unusual palpable, and palatable, textures. "One of the Above" is typical of the dark tone that permeates the thirteen tracks, though light does occasionally stream through on tracks such as "Make Me Know" and "Ninety-Five" Track titles are as diverse and puzzling as the fascinating musical journey itself.



Wind and Wire - Bill Binkelman (c) 2004
Nathan Larson, here recording under the pseudonym Samsa, has fashioned a predominantly eerie and sometimes disturbing dark ambient album, yet one that is also be strangely compelling at times. There is little detail to be found in the liner notes about what the sound sources are that he molded into these inky black and liquid grey clouds of tones, drones, textures and washes, so I won't even hazard a guess. While there are thirteen tracks listed, and they are certainly different from each other, they do blend into one another so the CD could be appreciated as a quasi-long form ambient work.

It might be helpful to understand the "concept" of the recording. As the liner notes state: "The Laurentian Divide is a part of a vast, flat and rocky platform of land that extends from west-central Minnesota through central Canada. It was the first part of the North American continent to be elevated above sea level. Water flows in both directions from this ancient place..." These descriptive words give the astute listener a clue as to what Larson is sonically portraying on a track like "Glow, Sparkle, Dust" with its burbling watery effects, muted wavery tones, and general sense of undulations, some of it emphasized with warmish synth drones. On the other hand, "Perfectly Flawed" presents a dramatic 90-degree turn away from oppressive darker soundscapes and travels in soft shimmering reverberating bell tones and the sound of waves lapping or a brook babbling, although background computer-ish noises "flaw" the peaceful nature of the song, especially toward the end when things start to unravel purposefully.

"Leaving Trees" eschews fear and foreboding for a brooding sense of mystery as its nine minutes slowly unwraps a shadowy drone, like a long fall into a deep hole that sometimes lightens and sometimes darkens, alternately bathing the victim in a glow and then robbing the same victim of all sight. "Edge of Forever" starts soft and slow and begins adding layers of drones and noises, especially creepy background rumbles, while "From the Mountain" elicits comparisons to Jeff Greinke darker rhythmic work, with ping-pongy percussive effects bouncing arrhythmically against scratching noises and reverberating bell-like notes. You can well imagine that a song entitled "Ghostly Devices" won't be all sunshine and daisies as disturbing rushes of sound are balanced by rumbles and burbles. However, "One of the Above" has a strangely ethereal or spacy feel to it, as what I hear to be muted synth chorales and synth drones coalesce and break apart in formless patterns throughout the track's eight minute duration. "Make Me Know" is an, at times, barely there soundscape of darker-tinted minimalism - not substantive enough to be scary but not harmless, either. As the track evolves, layers of buzzing effects and synth chorales are added which "beef up" the previous minimalist textures nicely. The CD closes with the "Skies Over St. Peter" one of the spookier tracks here, what with sampled church choirs, distorted yet recognizable and echoed, floating over whooshing and crashing textures.

The Laurentian Divide is one of those recordings that I admired and was even fascinated with from an intellectual standpoint, even if I didn't "like" it. I'll admit I don't always "get" dark ambient music, in that my emotional response is frequently of the "ehh, so what?" variety. However, some of the music on this recording made for great "sonic wallpaper" when I was in a somber and introspective mood; but at over seventy-one minutes long, it's tough sledding for one hundred percent dedicated listening for yours truly. I can recommend the CD to those who don't mind long stretches of non-melodic elements comprised of textural soundsculpting. While I might refer to this as scary and dark at times, it lacks the bone-chilling attitude of, for example, Rich's and Lustmord's Stalker. Still, I wouldn't voluntarily listen to this in a dark room on headphones either.



All Music Guide - Jim Brenholts (c) 2003
Samsa is the pseudonym under which Nathan Larson records deep experimental e-music. "The Laurentian Divide" is his debut CD after several contributions to samplers and internet downloads. (The title refers to a platform in central North America.) This disc is a creative bonanza! Nathan combines liqueous textures, deep atmospheres, sci-fi timbres and experimental sounds to create formidable soundscapes. The soundscapes caress deep listeners and float them away to the far reaches of their imaginations. It is a colorful and diverse ride. Nathan runs the gamut from pastoral ambience to dark minimalism. The textures swing from liquid to organic and back. The drones are ominous and sinister. The sci-fi timbres are deeper than deep. This is an essential CD!



AMBIENT.us - Dodds Wiley (c) 2003
Newcomer Samsa has created an intriguing work whose title refers to "part of a vast, rocky platform of land that extends from west-central Minnesota through central Canada. It was the first part of the North American continent to be elevated above sea level. Water flows in both directions from this ancient place." It's an eloquent and intense darker ambient journey that is almost 72 minutes long. The listener is transported through Samsa's imagination to another time and place. Here are some impressions:

Primordial forces swirl and disembodied voices roam in "Channelate". Next is "Glow,Sparkle and Dust" with earth, water and lava bubbling and boiling. The theme of creation continues with watery sounds and an emerging gentle melody in "Perfectly Flawed".

Moving on is "Leaving Trees", a deliciously powerful cavernous drone, throbbing and morphing with sinister power, as walls of synthesizers shift and flux, moving to "The Edge Of Forever". It's a cold, icy and dense place with a delicate melody in the background. Strange percussion and rhythms combine with far off voices in sounds "From The Mountain". Things wind down with the melancholy"Oru Skies", but then it's back to sinister power for a few moments with"Ghostly Devices". Towers of drones and synths ebb and flow in "One Of The Above", followed by "Silence Within", where the winds of time erode everything,even stones.

Inner -space free fall and introspection are the next sensations in "Make Me Know". The end of the journey is near with drones and ethereal vocals building in"Ninety Five". Cello-like sounds and some celestial background vocals provide a soothing epilogue in "Skies Over St.Peter". Man has always struggled to comprehend the elemental forces of nature and Samsa's bold and passionate opus reflects this. Excellent sonics and well thought out structures abound in this remarkable debut. It's well crafted, innovative and exciting. Obtain it immediately, it's well worth your time!



Ambientrance - David Opdyke (c) 2003
The dim, slurry murk of the cover art accurately reflects the sonic flows within Samsa's obtuse territories of The Laurentian Divide and its vast abstract terrains.
The boiling grit of Glow Sparkle Dust wells as if the liquid depths were bubbling up all around you. Less turbulent, Perfectly Flawed glows with prettier harmonics gently sweeping its skies; occasionally former-voices seem to be heard beneath as gusts pick up. Leaving Trees (9:14) releases misty grey eddies in low droning currents which slowly flex slightly higher and often deeper.
Clattery fluids pour From the Mountain into a deeply submerged drumsystem, which later emits a shimmering haze of unknown materials. Somehow Oru Skies seem to continually droop, constantly bending downward. Anything mechanical about Ghostly Devices (2:55) is well-hidden in layers of cloaking rumbleclouds.
Not within reach, but beckoning...a glorious thrumming chorus emanates from beyond One of the Above's hazy vortex. Drift further with the distant shades of Make Me Know and its slightly arcing breezes. Symphonic-ish movements swirl like curls of smoke in the Skies Over St. Peter, a lovely sunset over the nearly-72-minute proceedings.
As envisioned by Samsa , The Laurentian Divide spreads across untraveled realms of esoteric soundscapes with vague and varied contours, often on the darker side of ethereal. Nicely navigated! A-
Back To Reviews

Dark Winter releases are free to download under a
Creative Commons License
.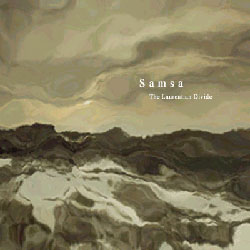 Related Links: